Archive for October, 2010
by charlieruckus on Oct.07, 2010, under Uncategorized
Westmonster Zombie Walk 2010 (4th annual)
Saturday, October 16 · 12:00pm – 5:00pm
140 Village Shopping Center Westminster, MD 21157 (meet at Shoppers parking lot)
FREE – ALL AGES
Come dressed as a zombie and help us take the town!
Special free screening of "Night of the Living Dead" in the main theater of the Carroll Arts Center following the walk!
We are doing a canned food drive to benefit Carroll County Food Sunday again this year! Please bring canned foods to donate!
The Westminster Barber Shop is an official sponsor of the 2010 Walk! Thanks Brian!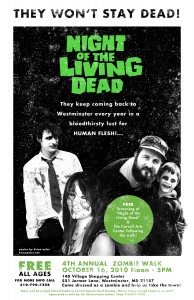 Leave a Comment
more...
by charlieruckus on Oct.07, 2010, under Uncategorized
Zombie Makeup Demo
Tuesday, October 12 · 7:00pm – 8:30pm
Finksburg Library 2265 Old Westminster Pike Finksburg, MD 21048
FREE Zombie Makeup Demo! come on out to learn how to do zombie makeup before the big walk! we are also going to be showing some cool video clips of zombies we have created over the years.
http://www.facebook.com/event.php?eid=137514222959816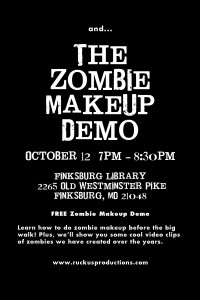 Leave a Comment
more...