The Deadneks "Trilogy of Blood" Digital Download $8
The Deadneks "Trilogy of Blood" DVD $10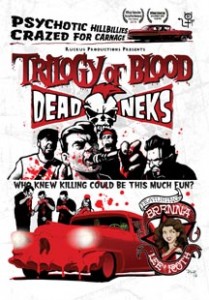 SEE the BLOOD! FEEL the TERROR! HEAR the PSYCHOBILLY SICKNESS!!!! Experience the sensory TRIPLE-SKULL-FUCK that is…TRILOGY OF BLOOD!!!!!!!!
When a trio of sexy city gals picks up a broken-down hillbilly in the backwoods of Virginia – the three kittens get A LOT more than they bargained for when they accept the drifter's invitation to a down-home barbecue. What these lovely ladies don't know just may hurt 'em – when they find that the menu of this hayseed hoe-down isn't the standard 'burgers and dogs'…
Shot on-location by Ruckus Productions in the hills of Virginia with an estimated budget of roughly 62 dollars – TRILOGY OF BLOOD is a grindhouse gore-fest combining old-school drive-in horror, with three (count 'em – THREE!!!) rowdy performances by the grittiest psychobilly act this side of Pleasant Valley!!!
Starring Brenna Roth (B-movie starlet and daughter of legendary rocker David Lee Roth), and psychobilly sickos THE DEADNEKS – TRILOGY OF BLOOD is a carnage-crazed feast for the eyes and ears of hell-raisin' Psycho Rock-and-Roll and 70's exploitation-style cinematic madness!!!
If you see only one triple-music-video-slash-southern-fried-horror-film this century – grab your vomit-bags and earplugs, and treat yourself to a…TRILOGY OF BLOOD!!!!!!!!
Ruckus Productions "Shorts" DVD $10
Ruckus Productions hat $30