Tag: night of the living dead
by charlieruckus on Sep.10, 2009, under Uncategorized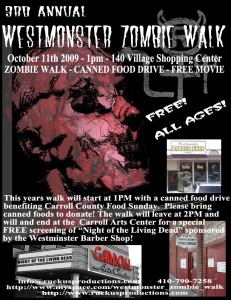 Octotber 11th 1 PM @ 140 Village Shopping Center in Westminster, MD
This years walk will start at 1PM with a canned food drive benefiting Carroll County Food Sunday.  Please bring canned foods to donate! The walk will leave at 2PM and will and end at the  Carroll Arts Center for a special FREE screening of "Night of the Living Dead" sponsored by the Westminster Barber Shop!
Myspace event link: http://tinyurl.com/le88rp
Facebook event link: http://www.facebook.com/event.php?eid=272643450354
2 Comments
:carroll arts center, carroll county food sunday, night of the living dead, zombie walk
more...