Tag: BUG
by charlieruckus on Apr.16, 2009, under Uncategorized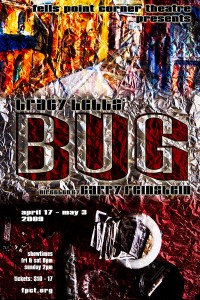 Josh Snowden, star of CASK, is starring in BUG.
This is a great play go check it out!
The play opens this Friday at 8pm and runs three weekends at Fells Point Corner Theatre on South Anne St. in Baltimore, runs about two hours with intermission, $17/ticket except for Thursday April 30th which is $10/ticket (cheap night).
Here's the link to the website: http://www.fpct.org/productions/2008-2009/bug/
BUG
April 17 – May 3, 2009
Playwright: Tracy Letts
Director: Barry Feinstein
Cast: Kate McKenna, Josh Snowden, Bobby DeAngelo, Jordan Siegel, Steve Lichtenstein, Sarah Aboufasha
A drug addled cocktail waitress. An ex-con ex-husband. A lesbian biker. A handsome drifter. They all come together in a seedy motel room outside Oklahoma City in this dark comedy from the Pulitzer Prize winning playright, Tracy Letts.
Love, paranoia, and government conspiracy drive this thought-provoking psycho-thriller, mixing laughter and terror at a fever pitch…
And did we mention the bugs?
Bug has a subtlety and sureness of composition that testifies to top-flight craftsmanship.
The New York Times
Bug will get under your skin and stay there.
Time Out New York
[A] wonderfully lurid new thriller. . .
Newark Star-Ledger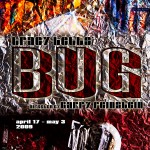 3 Comments
:BUG, CASK, Josh Snowden
more...